Parents play a big role in shaping a child's future, influencing everything from appearance, personality, habits, and hobbies. Parents will have a bigger impact in a child's life than anyone he or she may meet in the future.  They say the apple doesn't fall far from the tree, which is in fact true for Nic Merrill and his father, a head distiller at Bainbridge Organic Distillers located in Washington state. Those years he spent at his father's winery changed him forever, he was able to take the same path. He remembers the experiences from when he visited a favorite bakery, walked into distilleries and recalls the tanks fermenting. The smells really grab your attention. For him, it was the best place to spend his day.
Nicholas and Joanna Merrill are the husband-and-wife owners of  Kalamazoo Stillhouse. They opened their doors to the public in November 2014. Nicholas, or Nic, had his heart set for the distilling industry long ago.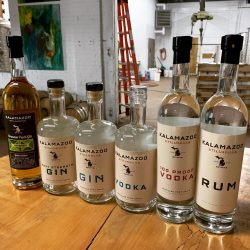 The Merrills were fortunate to train and spend time with Nic's father before proceeding to open up a business. They have been working on the Kalamazoo Stillhouse a year prior to their grand opening. According to Nic, the experience helped them test the waters, to see if it was the business that they wanted to be in. For a couple of years, Nick and Joanna have flown in and out of Seattle to work in the distillery and gain some knowledge. In addition to that, they have spent time with friends who own a distillery in Minnesota that focuses on gin, as well as visit other distilleries around the country. The Merrills were welcomed with open arms into the distillery business nationwide. Other distilleries have shared their best practices, shown them their operations, and helped them with understanding the craft distilling business. According to Joanna, it is unlike being in the restaurant business, where there's so much competition. She says the craft distillery industry is a breath of fresh air because everybody is very open and welcoming.
The two were very particular about the location, and they wanted their distillery to be located in the downtown area. Nic and Joanna grew up in Kalamazoo, they went to the same school since preschool and graduated from Kalamazoo Central High School in 2000. Though they didn't attend the same college and went separate ways, the two moved back to Kalamazoo, where they reconnected with each other. Now, they are raising their young family in their beloved hometown, K-zoo. It was very important for them to tribute where they came from, thus the name Kalamazoo Stillhouse.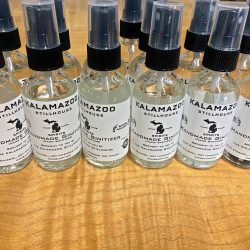 Two distilleries have opened ahead of Kalamazoo Stillhouse, but they were the first ones to receive a federal license to produce spirits. They searched for a space where they could buy and not lease. They eventually found a building after a year of looking and made a deal with the building owner. They repurposed the wood, found grain close by and they are speaking to wineries, as a part of their vision is to go local. The distillery and tasting room is 9,000 square feet, which includes storage for whiskey barrels. It took them a year before they started producing spirits in April with the 18 plate, split column, 750-gallon Vendome.
The Merrills wanted to make everything from scratch, which is very important for craft distilleries. Some startups buy grain neutral spirits from a factory producer then redistill and call it handcrafted. But the Merrills wanted to stay away from that practice.
By 2017, they achieved another milestone in their craft distillery business; the first release of their vodka. Making vodka from grain to glass isn't an easy task. It is daunting because not all distilleries have the right equipment. But not with Kalamazoo Stillhouse. With their passion and determination, after a few years of opening, they introduced their first vodka. Ingredients are locally sourced, 100% wheat vodka that is triple distilled and filtered. Milled grain with hints of butterscotch and vanilla flavors from the wheat, and rest assured, no added extra flavors in the process. A subtly sweet spirit that goes well with Mule, perfect for a vodka martini, bloody mary, or can be used to make liqueurs. Also, their line of spirits became available statewide that same year.
A few of their spirits are StillHouse Vodka, which was their first release. A 100% soft red wheat, which is (surprise!) gluten free. Triple distilled, grain to glass, all done in house at their distillery. Their 100 Proof Vodka is the same recipe as their classic vodka but has more proof, perfect for people who make their own infusions, cordials, and bitters. Stillhouse Gin is Kalamazoo Stillhouse's take in Carterhead still, 100% wheat, botanically sweetened gin. A complex gin with mixed notes of citrus, fennel, and coriander. It has a light body with flavors of juniper. Great for tonic and a lime garnish, or a classic martini. Navy Strength Gin, 130 proof, is great for folks who love a negroni, with the same botanical blend as the classic one with a little more oomph. Bronson Park Gin, available for a limited time and can only be found in the distillery, is great on the rocks or mixed with either gin or whiskey.
In 2019, the Merrills attended the Great Lakes Hops and Barley Conference in Traverse City, where they learned more about barley and how it can help their business, as well as other golden nugget of wisdom imparted by the speakers. It was a brewer's conference and amazingly Nick won a scholarship from Fermenta.