Traverse City is located at the edge of a deep blue bay in Lake Michigan and is blessed with miles of lovely shorelines, making it a perfect destination for tourists and even locals. From boating, sailing, paddling, swimming, cycling, hiking, and even golf, you name it! Traverse City presents limitless opportunities for people to enjoy a place that gives that perfect mix of relaxation and adventure, which makes it the cultural and social center of Michigan's "True North."
Traverse City is surrounded by the warm waters of Lake Michigan. Do you know what else makes Traverse City warm? Traverse City Distillery.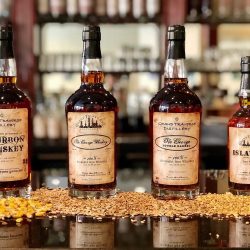 Behind the business is a man who loves his craft. Even if the world around him keeps on changing, he sets himself apart by doing things the old-fashioned way. Kent Rabish, the owner and founder of Grand Traverse Distillery, isn't shy about being old school. He loves all the hard work, from sourcing locally grown products down to the very process of making his spirits.
Michigan is known for the noticeable increase in microbreweries, wineries, and micro-distilleries. There was a trend among these businesses, and Rabish saw an opportunity and built his own micro-distillery in 2006.
It all started during Rabish's stay on his grandfather's farm, where he did everything. After college, he had a job in pharmaceutical sales. In 2001, he visited a friend in Oregon. During his stay there, he was given a chance to witness how an American micro-distillery works. Considering the size of the operation, which was small, he was blown away, especially by the quality of the spirits that were produced. That trip inspired Rabish to change lanes, and as much as he loved sales, he felt the need to move in a different direction. Being in the pharmaceutical sales industry for 30 years made Rabish miss creating something with his own two hands.
Fast forward to 2005, Grand Traverse Distillery was born. It was Michigan's first micro-distillery to distill from grain. Things looked good for Rabish and his team, and the following year they built their first building, which became home to their production site to this day. Looking back, when Grand Traverse Distillery started, there were only a handful of micro-distilleries in the area. According to Rabish, there were only about 30. But if we look at the industry today, there are more than 2,500 micro-distilleries across the nation.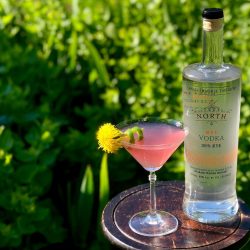 He became a pioneer in jumpstarting Michigan's craft spirit industry and has been providing excellent quality of spirits for over a decade. Their concept never changed. Their goal is to create a locally sourced spirit that is exceptional in terms of quality and taste. He takes pride in every bottle that his micro-distillery produces and the process that each bottle goes through. Every spirit Grand Traverse Distillery produces is truly handcrafted, and that's what makes them unique from merchant distilleries. The term "merchant distillery" came about when those who wanted to start a distillery had come up with a different option. Their initial thought was to stay away from buying the equipment for distilling as it was very costly and they did not want to break the bank. The industry was booming, and that made people want to join the heat and own a distillery business. They buy an already distilled product in bulk from an alcohol distributor. They finish the distilled product, bottle it, give it a bit of an identity by slapping some labels on it, and sell it.
According to Rabish, there is nothing wrong with doing this. But it loses the charm of running a craft distillery. He believes that every process that a bottle goes through should be honored, from choosing and buying the grain, fruit, and mill; to mashing, fermenting, distilling, and other factors that make up the bottling process. Although, it is cheaper to buy ready-made products and make it yourself as opposed to creating the spirit from scratch, which increases the overall cost of the bottle. The craft is very important to Grand Traverse Distillery and the rest of his team.
Rabish wanted to raise awareness and educate people so that they would be able to distinguish which is the bottle from a craft distillery and which is not. A blog post on their website features a few articles that discuss the issue to help the public understand more about the craft distillery industry and why they wanted to share their perspective regarding the matter.
Grand Traverse Distillery has a few tasting rooms in Michigan, the first one is The Distillery, which is located in 781 Industrial Cir, Suite in Traverse City. They also have one in Downtown Traverse City at 215 East Front Street. In Leland, at Harbor Square, 110 North Lake Street. Another one in Frankenmuth River Place Shop, 925 South Main Street. Lastly, in Mackinaw City, Mackinaw Crossings, 158 South Huron Avenue.
They had a tasting room in Kalamazoo, which opened in July 2018 and was located at 224 East Michigan Avenue. According to a news release, Grand Traverse Distillery announced that they permanently closed in March 2020. Though they were sad to put an end to their tasting room in Kalamazoo, they were very thankful for the support that the community had given them.
They walk the talk and in terms of their products. Grand Traverse Distillery has caught the attention of some institutions. The True North Rye Vodka is made with 100% Grand Traverse Rye and was selected as one of the Top 4 Vodkas in the world and has gained recognition from a few more competitions across the world. Their Ole George was hailed the best in the Rye Whiskey category by American Distillers Association. They were also given awards such as Michigan Meetings and Events 2018 Best Distillery, Food and Agriculture, Corp Magazine 2018 Crystal Award, Best of Grand Traverse 2017 Best Local Distillery, Best Distillery – 2017 Michigan Meetings and Events Magazine, Best Distillery Tasting Room – 2017 Detroit Metro Times "Best of Detroit", Best Spirits 2011 People's Choice Winner, and Chefs Challenge.