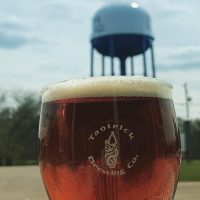 Patrick and Tanya Westover, the husband-and-wife duo behind Tantrick Brewing Co., live in Kalamazoo. But instead of building another brewery where they reside, they opted for another location.
Allegan is a city just a few minutes away from Kalamazoo, a charming area that is truly abundant with natural beauty everywhere you look. It is also home to one of the largest county fairs in the nation, The Allegan County Fair. After scouting locations, Patrick and Tanya decided that Allegan was a perfect fit for their brewing company, more importantly, it was a "thirsty" town, according to Tanya.
Allegan's thirst was a problem, but it was a good problem that the Westovers could definitely solve. Patrick has been brewing at home for nine years, and became more serious with his craft in December 2017. The name of their brewery is a combination taken from their names, Tan for Tanya, Trick for Patrick. They opened their doors to the public on July 2, 2018 at 633 Hooker Road in Allegan. Also, it is the former site of Millgrove Brewing Co., owned by Duane and Chris La Ponsie, who opened the brewery in 2014 and closed after operating for three years.
The Westovers' goal was to build a community in Allegan, they wanted to create a space where people can get together, enjoy their time, and of course drink good beer.
The Happy Accident Brown Ale was a popular drink during Tantrick's first run in Allegan. Currently they have rotating taps with a variety of craft beer, ciders, and wines that people can choose from. A few of them are Hoppy McHopFace, an American style IPA with 6.9% ABV; Deck Smasher, a Schwarzbier that has 4.1% ABV; My Ruca, a Vienna Lager with 5.3% ABV; Freckled Paradigm, a hoppy pilsner with paradigm hops from Great Lakes Hops that has 4.3% ABV; Mcnally Stout is an Irish Dry stout that has 4.3% ABV; Tantrick ESB, English Bitter has 5.9% ABV; Hammer Spank Red Ale with 8.8% ABV; and Bedroom Eyes is an IPA Milkshake with 6% ABV.
A few more include Bombardment, Barbe Smash, and Cool Runnings. McFeeley's Tongue Punch Brown Ale has flavors of cinnamon, toasted almond, and maple brown sugar with a 6.4 % ABV. American White Russian In A Flannel Speedo is Tantrick's sweet milk stout. Then they have the BA Twisted Leprechaun, an Imperial Irish Cream Stout aged in a Michigan Rye Whiskey Barrel with 11.08% AVB, almost similar to Irish Coffee. Stacy's Mom and Applehension Cider are Tantrick's take on ciders.
In their sixth month, Tantrick Brewing Company celebrated their half-year birthday. They have introduced 41 different beers, three ciders, and two wines. Patrick, who is also the brewmaster, has crafted a total of 137 barrels. They started from a one-barrel system and now have upgraded to a three-barrel system, making them more efficient. Tantrick's mug club has reached a total of 180 members, also having a mug club has helped them meet people in the community and make new friends.
The staff at Tantrick found joy in helping new customers find their perfect beer. Patrick and Tanya also bought a new house in Allegan, just a few minutes away from the taproom. Patrick continued refining his craft and Tanya worked full time to develop the branding and identity of Tantrick, while also managing the brewery. They also promoted Patrick's father to assistant brewer. Their beer was also seen on several downtown Allegan events, and as a matter of fact, Lucy's Cafe in Grand Rapids is serving them on tap.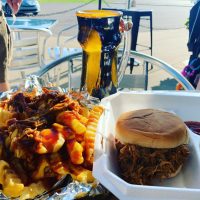 In 2019, Tantrick Brewing Company, together with the people of Allegan, celebrated an important milestone. They hosted a party and invited friends to gather and become a part of their brewery's first birthday. They introduced a new line of beer called Kinky Series, a drink crafted by the brewmaster himself then given a whiskey, bourbon, wine barrel treatment that gives it a whole new exciting flavor. The event was held in a parking lot with live music all day, serving 26 beers on tap, fire dancers, and it even stormed during the day which helped keep things cool. The beautiful sunset was a perfect addition to the festivity.
Back then, when they were still planning to open their brewery business in their current location on Hooker Road, Patrick and Tanya attended the Allegan City Council meeting to request approval for opening Tantrick Brewing Co. After all the success that they had in the area, the Westovers announced exciting news to the public. Last January, they attended another meeting to request an approval to open a taproom in Downtown Allegan at Riverfront. The new space used to be a favorite watering hole in Allegan. Patrick and Tanya will be renovating the old Long Branch Saloon at 243 Hubbard. Their goal is to bring great beers to thirsty folks in the downtown area. In addition to that, they will also add a kitchen; however, brewing production will be done off site, but wouldn't be that far away from the taproom. With this big change coming, they assured people that their beers will remain great.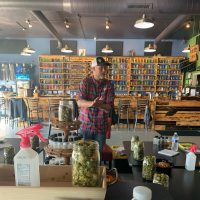 It was a risky move to open a business where they were complete strangers and knew very little about the city. According to the Westovers, they did not know anybody in Allegan. Yet the people in the community welcomed them with open arms. The folks in Allegan helped alleviate their worries because of the love and support they give to Tantrick Brewing Co. It was a humbling experience for Patrick and Tanya. It only goes to show that the secret sauce in making a brewery business successful is the support of the community.
Sure, brewing great beer helps, and Patrick already had that skill. But a rising question might be, if they chose to open in a different location, would they be this successful? They were wise with deciding to choose Allegan, moreover, they were very lucky with the people of Allegan.