Brite Eyes Brewing Co. opened in August 2015, the brainchild of husband and wife/business partners Brian and Shelby Pierce. Situated on Burdick St., just south of downtown Kalamazoo, it is Kalamazoo's smallest brewery because their beers are brewed in house one barrel at a time. With the growing industry of craft beer in the area, Brite Eyes Brewing wants to be different. They strive to offer something for everyone, not only for the beer drinkers but also for the non-drinkers. The idea for the brewery came from Brian and his wife's needs.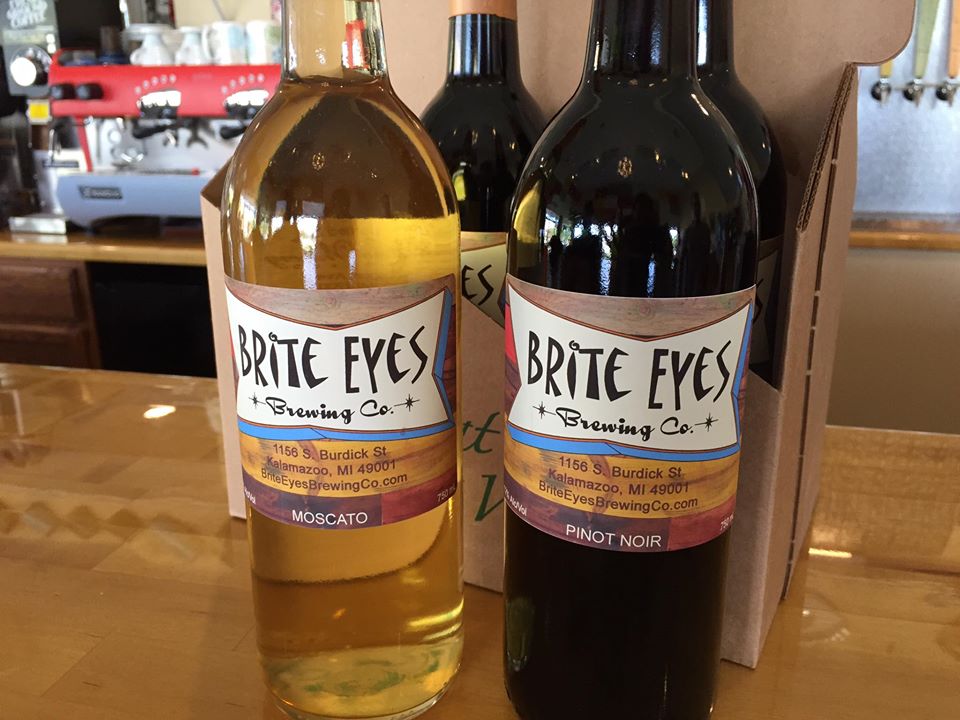 Brian is a homebrewer and a beer advocate, while Shelby doesn't drink- she's a big fan of coffees and teas. And like any other marriage, they compromised and combined their ideas, thus the beginning of a brewery and a coffee house. 
Craft beer plus breakfast. It sounds like a match made in heaven. Only this time, it is made in Kalamazoo. 
Having a short bar with a row of high wooden stools on one side of the room, while tables and chairs occupied the rest of the space. Brite Eyes is a hybrid of a coffee house and a brewery. With a maximum capacity to seat 44 people, Brite Eyes is a community where people who drink craft beer along with those who don't regularly drink alcohol can gather and enjoy each other's company. Kalamazoo is known to be easy-going and laid-back. Brian and Shelby wanted to keep that vibe and apply it to Brite Eyes as well. 
The building where it is located has a mid-century modern architectural style similar to that of The Jetsons during the mid-1960s. The couple wanted to include a few of those design elements while being careful not to go overboard. The idea was to keep the place light and bright with a few accent colors. Quirky signages, two large robot figures, and four walls emitting warm light, it really sets the laid-back mood in Brite eyes. The large windows, the assortment of board games, and outdoor seating make it such a warm and inviting place, similar to the feeling of visiting a best friend's house. 
Though at first, they had to wait until their brewery license was processed and approved, their soft opening became a success. They have been a participant of Kalamazoo's Art Hop, and like all other Art Hop participants, Brite Eyes will feature a local artist's work. They will also showcase a new guest brewer's beer, new coffee drinks, and a guest chef's specialty dishes. Their goal was for the brewery to be always changing so people who come back have different choices and they have something to look forward to on their next visit. 
 
During their first few moments, they focused on serving breakfast and lunch. Their menu included egg scrambles, Victorian pastries, wraps, salads, sandwiches, and deli salads. Serving breakfast was kind of an accident, as they were still experimenting and testing the Kalamazoo locals. Their location attracted a morning crowd because of the surrounding businesses. They also learned that the crowd not only included people heading to work, but also people at the end of their shift leaving work.
They adjusted their opening time immediately, and of course, what better way to serve those thirsty people from their shift? Beer! It became the perfect opportunity for Brite Eyes to offer cold brew with hot breakfast to workers who have been working all night.
For the coffee menu, they have a wide array of selection from drip coffee to espresso drinks. Their coffee beans are roasted by Johnny's Java, a company based in Springfield. They met the owners during their visit to the Kalamazoo Farmer's Market, they thought that it was a perfect fit for Brite Eyes to serve their coffee, so they partnered with the family-owned company.
The price range for their food was also something that keeps them apart from other breweries. They try to stay affordable while maintaining the quality and taste of their food. According to them, other breweries have become expensive and have lost the cheap but tasty experience of grabbing a beer and a sandwich. Brite Eyes has received a few thumbs up because of their food menu, which is not so extensive but there are enough choices for every individual in your group. Vegetarian friends also have a space in Brite Eyes, and if you have a thing for breakfast, this is the place to be. 
Brite Eyes hosts a traditional collection of creative drafts such as Fearless the Idiot, a hoppy and balanced American style IPA that is a sure contender with any other IPA out in the brewery world. A traditional brown ale, Southtown Brown has a mix of malt with subtle hazelnut notes. Using only a one-barrel system, people are assured that things are kept fresh and creative. 
 
For the non-beer drinkers, Rooibos Reserve is one of the few favorites in Brite Eyes, an infusion of rooibos tea leaves and amber ale. With a hint of malt and vanilla, it sure is a smooth drink. The Maple Walnut is also a crowd pleaser, they used locally sourced coffee that starts off strong then ended sweetly with subtle maple flavor.  

Brite Eyes really offers the best of both brewery and coffee worlds. Brian also noted that they do geeky things and experimentations with different ingredients. For example, one creative recipe that they are known for is cold brewed coffee served on nitro taps, which included a lot of research and study before finally achieving that perfect cup. 
Indeed, Brite Eyes is a one-stop-shop. The combination of two passions of both husband and wife is not an easy business to balance, both sides must be met and in order for the venture to succeed both have to be handled appropriately. Brian and Shelby Pierce are very admirable because of the favorable outcome of their unique idea: Brite Eyes.