You can find Lawton's Barn Brewers Brewing just three minutes south of Paw Paw, Michigan. The brewery can be found in a beautiful brick building that holds so much history, particularly in the microbrewery industry. 
When the brewing industry was just starting to develop back in 1993, Dusters was built in the same space. Dusters was one of the first microbreweries in Michigan. Then it became Old Hat, which closed in 2012. Now the building serves as a home to Barn Brewers Brewery. Their building has a history of microbreweries, which makes it the perfect place to start a business
Four friends in the their 50s, named Brad Harrison, Matt Stevens, Jeff Kellog, and Dan Kolenko, decided to open Barn Brewers Brewing. Located at 114 North Main Street, Barn Brewing Company opened their doors to the public in December 2014. The four lived in Mattawan and had been friends for more than 10 years.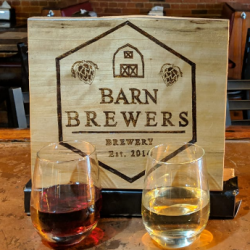 Harrison had his first encounter with horses, beef cattle, and chickens at a very young age as he was born and raised on a family farm near Caledonia. He attended Michigan State University, then decided to move to Lawton for a career opportunity in 1994. He is a senior officer for a large bank and has been working in the financial services industry for almost 30 years.
Kolenko studied Industrial Marketing, which led him to Kalamazoo and West Michigan University. He was born in Coloma and has a long career in Sales Engineering/Project Management in Contract Manufacturing. Kellogg, born and raised in Coldwater, earned his degree from Ferris State University with a major in Criminal Justice. He graduated in 1983 and has been a Major League Umpire since 1993. He now lives in Mattawan with his wife and three kids. Stevens was also raised on a family farm in Mattawan. He grew up harvesting grapes and cherries. He went to Mattawan High School in 1982. In 1985, he married his high school sweetheart. For 28 years, he worked as an electrician at a local electric company. He still lives in Mattawan, but is now pursuing his dream to open his own brewery.
According to Lawson, one of the co-owners, the community of Paw Paw has been very supportive of them. People kept asking when the brewery would open so Stevens dedicated himself full time and quit his job as an electrician, now he is the head brewer of Barn Brewers Brewery. His love for beer started with the idea of growing hops on their family farm. He was curious to know if hops and grapes would work together, fortunately yes! The first harvest of hops was phenomenal as they grew tall, wide, and had great-looking buds. They immediately knew what to do with the hops – brew some beer. While the screened in porch was built as their brew station, it turned the space into a home brewery. Brewing became a project and week after week. They produced batches that were better than the last. That's where his friends joined. They tasted each batch and became connoisseurs who would stop by every weekend. That's when they decided not to keep it for themselves, but instead share it with the rest of the community.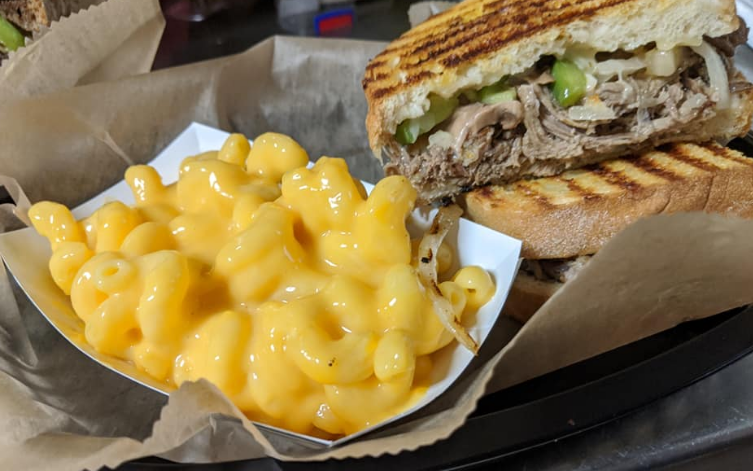 They spent $200,000 for new equipment and renovations. They were strangers to the restaurant business, but they knew for a fact that it was the best time to start and it was the best place to build their business. They saw the great potential in the craft brew business and they saw that it was booming. What they did not know is that the microbrewery business does not thrive to compete with each other, but instead they cooperate and help those who are just starting out. They were delighted by the support of the community, and breweries such as Gonzo's Bigg Dogg, Boatyard, Tibbs, Final Gravity, and Paw Paw offered them help. 
They started with five beers on tap, namely Rye Spreader, an ABV 6% amber ale with a light color that has malt flavor and a few notes of rye. Center Punch is an ABV 6% IPA that has a clean crisp taste with Centennial hop flavor. First Aid Kit is an ABV 5.2% pale ale made with Cascade hops. Trifecta is an ABV 6% mild IPA made with Cascade, Centennial, and Chinook, which are known as the big three hops. Testing is a cream ale with 4.5% ABV. It is also the first beer the group ever made. Smooth, with a little bite of bitterness and a sweet malt. BRB is a combination of beer and Barn Brewer's own root beer.
A few more craft beers being served on tap include: Barn Dance, an Irish red with a malt blend of toasty and sweet that has big aroma and flavor; Barn Light; Butter Toffee Stout; Chris' Candy on Nitro; Farmer's Daughter; Good to the Last Drop; Mud Cricket; Pecan Porter; Push Mower; and Sledge Hammer – available on to-go cans and growlers.
Barn Brewers Brewing also offers specialty drinks like Beer Bloody Mary, which is served spicy with a side of olive and pickle garnish. Cider Mimosa, which consists of orange juice and Blue Devil Cider. And lastly, the Cranberry Mimosa, made from cranberry juice and Blue Devil Cider. Blue Devil Cider is a hard cider with an ABV of 6%. They also include wines, like their own Barn White & Barn Red and Sangria Red and Peach.
Their customers are loving the feel of being at home, and of course while drinking beer with friends and family. They offer a wide variety of hand-crafted beers, and the food on their menu is loved by customers too, which keeps them coming back to the place all the time, day or night.